COME AND MEET US - PHONE 0417 803 260 OR EMAIL TOURS@GEORAMA.COM.AU
Bring coffee..... :)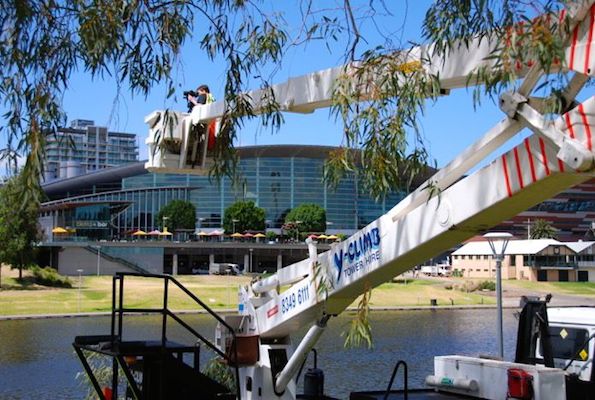 That's Steve on top of a cherry picker, taking gigapixel photos of the Adelaide city skyline for Ocean Park in Hong Kong. Steve won a Distinguished Alumni Award from Monash University in 2001 and was the original creator of Adam Internet working with Greg Hicks. His systems engineering and management experience was gained in the rigorous Defence environments on JORN, AEW&C and the Air Warfare Destroyer Alliance. Steve is a member of the Hong Kong Australia Business Association South Australia (HKABA), the Committee for Adelaide and a member of the Away3D core team. His expertise in internet technologies, network management, mathematics, programming applications and just about everything else is the driving force behind Georama and its products. Steve likes drinking coffee, playing guitar, loves his cat and tends to fly around on strange things.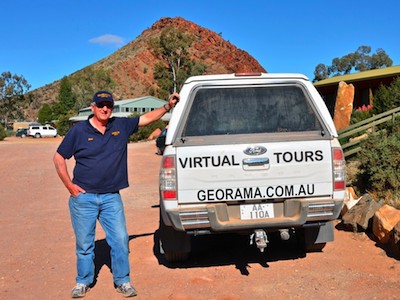 Chas Adlard
Operations Manager
Chas bushbashing as usual for Georama. He loves it. Chas has a varied background including the Merchant Navy, the RAAF Fire Service and SA government. Chas is a published author, a member of both the International VR Photographers Association (IVRPA) and the International Association of Panoramic Photographers (IAPP) and has won nine Bronze Awards in the Epson International Photographers Pano Awards. Chas loves Australia and likes wandering around his bush block having a beer with his dogs.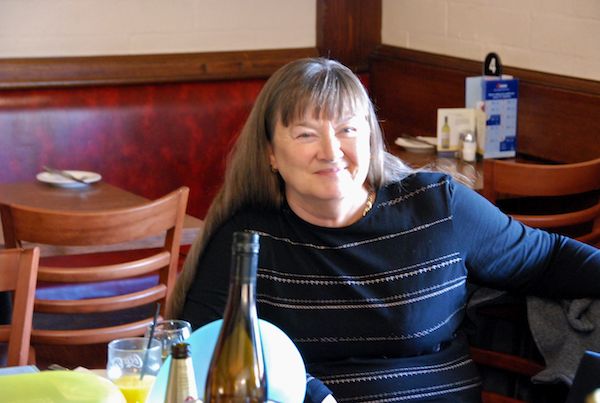 Chris Adlard
Systems Engineer
Chris at the pub while the rest of us work, typical. Chris has held both functional and management roles in many large Defence projects, specializing in Configuration Management, Quality Management, Process Improvement and Information Systems. Chris carries out the digital photographic processing and supports the back end engineering for the Georama products. Chris likes playing and teaching piano, doing yoga, loves her dogs and hates getting up early.
READ ABOUT US
Established in 2006, Georama is based in Adelaide and supports South Australian tourism and businesses by providing the latest virtual reality marketing technology. We offer:

- Virtual reality projects
- Oculus Rift and VR glasses development
- Immersive Imaging
- Computational photogrammetrics
- Geoinformatics research
- 360 degree high resolution panorama photography
- Superb immersive and interactive full screen virtual tours
- Gigapixel and megapixel photography
- High quality panorama prints on paper and canvas
- Giant wall photography of any size
- Aerial/elevated 360 degree and still photography
- Raspberry Pi applications and development
- Robotics, UAV/Oktokopter construction and support

Our team has strengths in innovation, technical consulting, systems engineering, network architecture, network management and internet technologies. This broad level technical experience and capability enables many innovative solutions to be developed, and several special projects are ongoing.

In 2006 Georama developed street walkthroughs of Adelaide using panorama photographs ("The Adelaide Georama"). This was months before Google Street View. A look back to the past - the Adelaide Georama 2006 in Quicktime and with walkthroughs in Flash.

In July 2010 Georama were the acknowledged first in the world to develop multiple panoramas in a single virtual tour for iPad and iPhone. Using the latest HTML5/CSS3 technology, tours are displayed directly in the web browser with no plugins or applications needed. Automatic detection by our servers enables access via a single web address for all devices.

We are also available for special projects, technical consulting and online media. Contact steve@georama.com.au with details of your requirements and ideas for your projects.

In November 2012, Georama satisfied the requirements for the Australian Tourism Accreditation Program and is now an Accredited Tourism Business Australia. So we have the Australian Tourism 'tick' of quality assurance - Trust the Tick!

In January 2014, we were contracted by W. Hing Construction in Hong Kong to create two giant wall photographs of the South Australian bush, one 40 metres wide by 7.5 metres high and a second 18 metres wide by 8 metres high, for the new attraction "Adventures in Australia" in Ocean Park, Hong Kong, featuring koalas donated by the South Australian government. This work was followed by a further contract direct to Ocean Park Corporation to create a 'city corridor' entrance covering six more walls. The city corridor displays the Adelaide skyline on one side and the opposite bank of the Torrens with the Adelaide Oval on the other side.
TERMS AND CONDITIONS FOR PHOTOGRAPHY
Orders may be made by telephone, email or fax. Work will be scheduled once the order has been received from the customer. The customer is responsible for arranging access to the location at which the work is to be carried out and that it is set up ready for photography. Arrangements for work at remote sites will be conducted as appropriate to the situation. Cancellations or postponements should be provided within 24 hours of the booked date, otherwise an administration fee may be payable, extenuating circumstances excepted. Georama will make every effort to process the order promptly and as agreed with the customer. The completed work will be considered to be delivered by Georama and accepted by the customer when media containing all photographic images and associated web pages or applications have been physically received by the customer and/or all files have been electronically hosted by Georama and the customer notified. Prices quoted by Georama are subject to change at any time but Georama will honour the price quoted for any existing orders. Quotes include travel in the Adelaide metropolitan area. We are happy to travel across South Australia and interstate if requested. If goods and services are required to be rendered outside the Adelaide metropolitan area the customer will be quoted in advance for reasonable travel expenses. Multiple visits for quotes and to suit customer arrangements and/or extended waiting times may incur extra charges. An invoice will be issued electronically or included with the media containing the photographs and associated files. Full payment is due no later than 30 days after invoice date unless otherwise agreed. Georama may apply a late fee to any accounts not paid within 30 days of the due date. Georama does not accept credit card payments. Payments may be made by electronic funds transfer (EFT), Paypal or by cash/cheque. Copyright of immersive images and other files will reside with Georama. Georama holds all rights to the intellectual property and to the techniques employed to produce the photographs. Georama reserves the right to apply a discreet trademark to all virtual tours.
OUR COMMITMENT TO THE ENVIRONMENT
Our environmental sustainability policies include fuel, energy and water conservation and recycling. Our staff are committed to carrying out our work without damage to the environment. Our vehicle is kept maintained to eliminate oil leaks and to minimize emissions and is kept to marked roads in national parks. All rubbish, spares, food containers are removed to leave no trace of our presence. Our vehicle is quiet and we and our equipment make no noise while on location in sensitive areas. Our Oktokopter is particularly environmentally friendly. Whereas current aerial photography methods like using a helicopter are noisy, the Oktokopter is completely silent and will be able to be used without disturbing wildlife. We promote the environment through the online display of SA national parks. Our images with the gentle sounds of nature as ambient background sound show the extreme beauty of the outback and national parks with the aim of showing visitors the need to preserve such beauty for future generations. We hope that we are encouraging tourists to preserve the beauty they see and leave no impact on the environment.